JM Cleaning Company - take a look on the interesting features of this Joomla template
Looking for a website for your cleaning company? Our latest JM Cleaning Company template can be a good choice for you since we focused on creating a clean and simple design that will catch your potential customer's eye. Check the most important things about this template.
Theme Customizer – quick and easy color change
If you do not like the colors on our live demo, you can simply change them to the ones you need. Using Theme Customizer you can change colors for many template parts just in few seconds. What is more, you can change fonts quickly as well.
TIP: Modify the template design with EF4 in few minutes!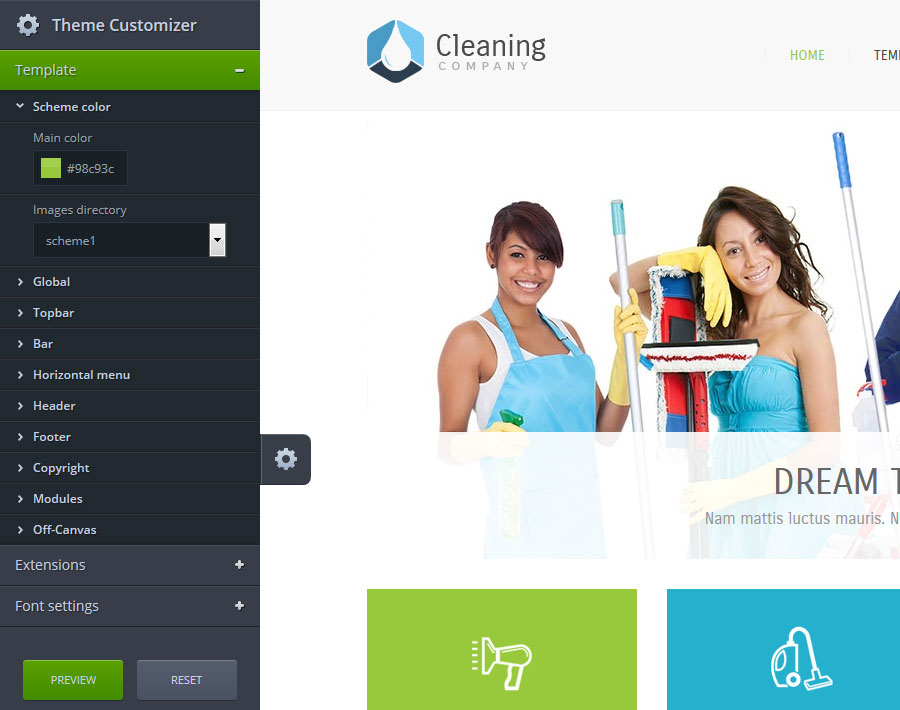 Layout Builder – quick and easy layout settings
Another important feature that is worth to mention. Layout Builder is a visual tool which allows to configure the template layout in many useful ways. What you can do? You can change the template width, gutter size, order of blocks, order of main columns, main columns width, hide or show a block or module for selected mobile devices and much more!
TIP: How to configure Layout Builder?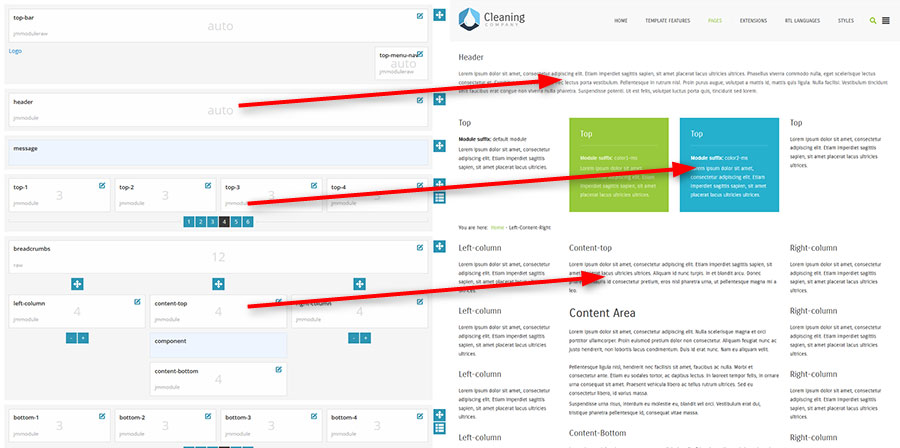 DJ-Tabs – animated tabs or accordion
The template is using the DJ-Tabs extension that allows to display article's category, single article or modules as tabs or accordion. We have displayed an example module on the bottom of the homepage:
What is more, you can add an icon to each tab:
Offcanvas – smooth sidebar that slides in and out of the page
Additional module position for your content that is positioned outside the viewport. After clicking the menu button located in the top of the template, the offcanvas panel will slide in. It is a great and attractive way to present modules for mobile devices.
TIP: How to display the offcanvas sidebar on a website?
Home views – inspire yourself to arrange the homepage
We have prepared a few examples on how you can arrange the header area on your own website. On each example, you can see a different layout of the DJ-MediaTools extension which allows to display animated slides and galleries with optionally title and description.
TIP: How to use the editor button to display albums?
Color boxes – highlight your important features
On the homepage you can see 8 color boxes. This is just an example for our demo purpose and you can easily replace the icons and titles with your own. You can also display a different number of boxes if needed.
Pricing tables – present your offer and prices
Let your potential customers know about your offer and prices. The pricing tables are based on custom HTML code and you can easily display any content you need within them.
Animated banners – easy way to pay the visitor's attention
On subpages you will find some examples of animated and attractive banners. This is a simple way to display important features linked to other content on your site, for example articles.
TIP: How to create a custom HTML module?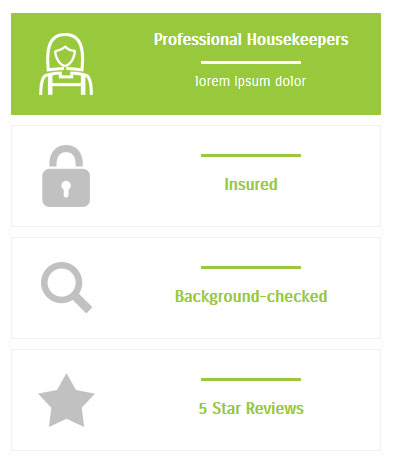 In the typography article you will find more examples of custom codes available for this template.