Running a car classified website is an incredible way to make money, but creating a classifieds website brings a huge number of things, aspects, and issues you should consider. You need to create the website, manage it, handle the issue of the payment process and your visitors or website's users need to have a familiar environment and possibilities to find what they are looking for. There are a number of tools available that can make that everything much easier. One of such solutions is a JM Car Classifieds Joomla template.
Car classifieds website template
JM Car Classifieds is the best available solution for car dealers that are looking to launch a profitable online business. You can create a unique website based on this Joomla auto ads template. This responsive Joomla template was created with online auto classifieds website or any vehicle for sale in mind because it gives the wide range of possibilities for car selling. In principle, this causes the using of DJ Classifieds component. Joomla ads extension brings you many features important for showcasing, selling or renting vehicles.
Car classifieds website builder
DJ-Classifieds is a classifieds listing tool that gives you complete control. DJ-Classifieds is the right choice for any classifieds related website. Build a functional classifieds website without a programming knowledge and launch the listings website immediately. The Joomla ads extension allows creating an infinite number of sites using paid or free listings. For this purpose, you can use unlimited extra and custom fields, categories, multifunctional modules, Google Maps integration and many more useful features. It's also easy to customize to suit your needs, thoughts, and ideas.
How to create custom fields in DJ Classifieds?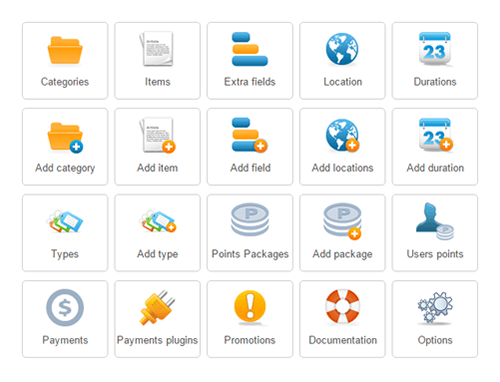 Advanced classified ads search
One of the most important and useful features is an advanced search module. DJ-Classifieds component comes with a search option that gives you the possibility to filter the results basing on many different conditions.
As you can see on the JM Car Classifieds demo site, you can search items according to standard parameters like:
Category
First registration
Vehicle mileage ( km )
Fuel type
Price
There is also a button to open the advanced search. You should know that you can configure the module to display not only a standard but also additional search attributes. You can use custom fields as search attribute for a specified category.
How to configure search module in DJ Classifieds?
Besides a standard setup, there are more parameters available, like:
Location
Condition
Ad Type
When added
Advanced search:
Earn money with classified ads website
Look no further! JM Cars Classifieds along with the implemented DJ-Classifieds component brings an impressive number of tools for increasing site revenue. You can charge users for categories, durations, promotions, extra images, additional characters, banners, and more.
Read the tutorial article and see all the ways to earn with DJ-Classifieds extension for Joomla. DJ-Classifieds component allows using different classifieds payment plugins like:
Paypal,
Stripe,
2checkout
QuickPay
And much more
Test classifieds website in action
JM Cars Classifieds template offers example demo sites. An online demo site is designed to display some possibilities of the templates and DJ-Classifieds component and to give visitors an insight into the exemplary use of the template. The demo site shows you what users will see when they visit your car dealership website.
Check JM Car Classifieds two different demo versions here (Example for car classifieds websites with search module in the header and an example for car classifieds websites with different header modules).
It is also possible to make a little trial. Open the demo site and navigate to "Sell a car" button located in the top menu on the right side. Click the button to see login details to use. Once you are logged in you can see how the process of adding a new advert looks like in practice!
There is also a possibility to check how the DJ-Classifieds backend works. Visit the DJ-Classifieds test drive and log into the backend using "test" login details: https://drive.dj-extensions.com/dj-classifieds-new/
Summary
Get JM Car Classifieds template and run your own car classified business with ease! Create or manage a rich collection of ads. DJ-Classifieds is just perfect for any classified website. You can be sure that you will save a lot of time and resources and you'll be able to start focusing on earning money only!
PS- We encourage you to visit the Joomla-Monster "daily discount" page and check if there is any discount for this template currently available. We often offer different kinds of discount, so it's worth keeping up to date as you can save much money.