Joomla templates 2016 summary.
Let's check all products we've released at our Joomla template store in 2016. Comparing to the previous year, all new Joomla templates came with additional demo sites which are also available to download as a separate quickstart files. Templates are provided with 100% voucher on Joomla pro extensions and besides the great web designs and EF4 framework features our customers appreciate it most. We also released several WordPress themes that yuo may see at the bottom of this article.
JM Product Catalog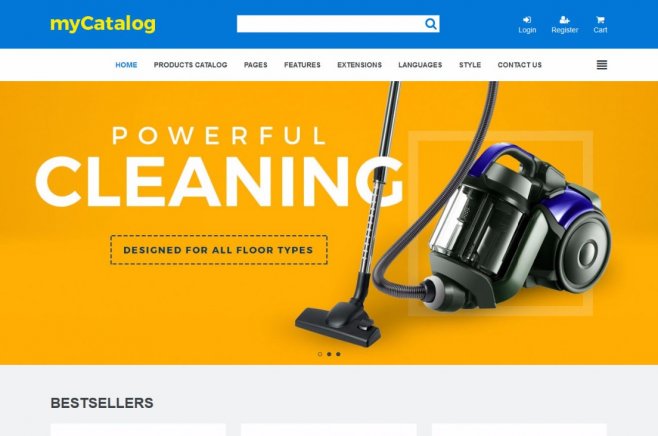 JM Product Catalog is a modern Joomla template purposed for a great directory site. DJ-Catalog2 Joomla catalog extension was used here to allow professional products presentation in an approachable and organized way.
You can present your electronics, software, hardware, mobiles, home decor, garden accessories and much more. This multipurpose product catalog Joomla template is fully customizable and flexible in many different ways.
JM ClassifiedsAds
JM ClassifiedAds is a clean Joomla template for online listings directory of ads. Because the functionality of JM ClassifiedAds is supported by DJ-Classifieds (best classified ads component) using this template you will be able to create job ads, real estates ads, cars ads or any other type of classifieds portal.
Template also uses DJ-MediaTools, slideshow extension for Joomla that will help to grab the attention of your visitors! User satisfaction is the motto of this Joomla template.
JM Animals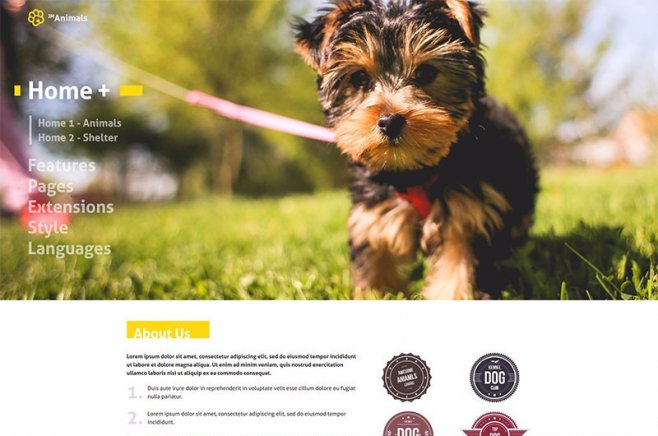 JM Animals is a Joomla template created for all animal lovers and animal business owners (animal shelters, pet caretakers, charity sites and more). There are two demo versions of the home page available - see that you can easily adapt this template to your purpose.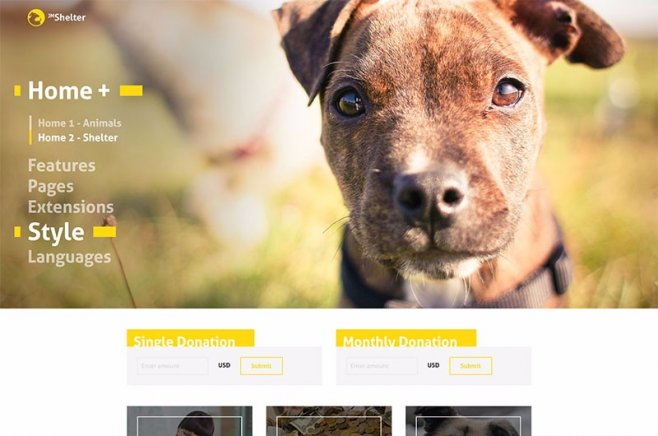 This animal Joomla template comes with custom HTML modules for donation systems!
JM JoomAdvertising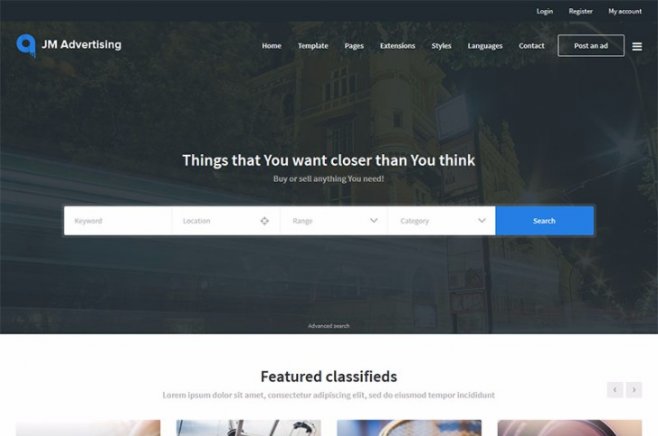 JM JoomAdvertising is a modern Joomla template for online classifieds or auction website. Using this template you can create a fully professional classifieds portal - with job ads, real estates, cars or any other advert.
The DJ-Classifieds Joomla extension powers the template. Website's customers will be able to sell via auction, buy now or standard way by contacting an advertiser!
JM Sport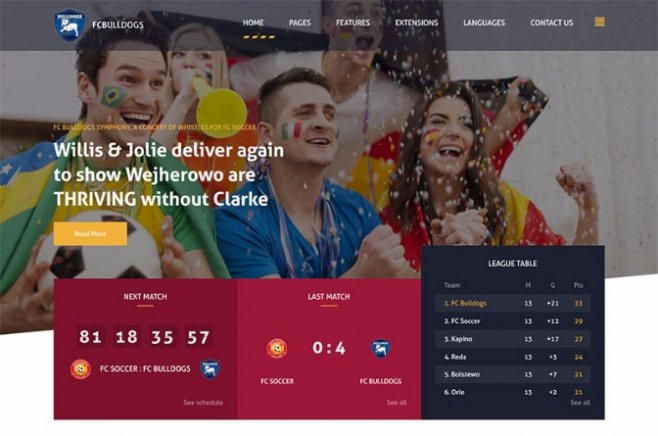 JM Sport is a fantastic Joomla template designed for sports category - sports clubs, league sites, events sites, magazines and more. This template comes with two demo versions: for football/soccer news and running club website.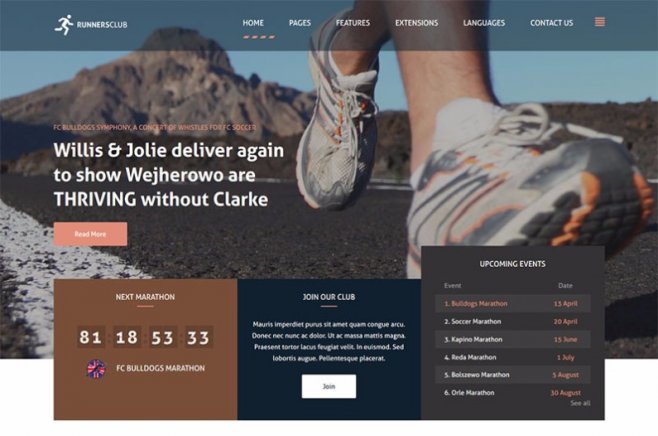 You can create a perfect website of your sports club, team or local league - JM Sport includes all the features that you need. It has many useful ready to use custom codes to showcase previous and upcoming events, results and league tables. Thanks to a DJ-MediaTools extensions implemented here, you can create eye-catching galleries and slideshows.
JM Portfolio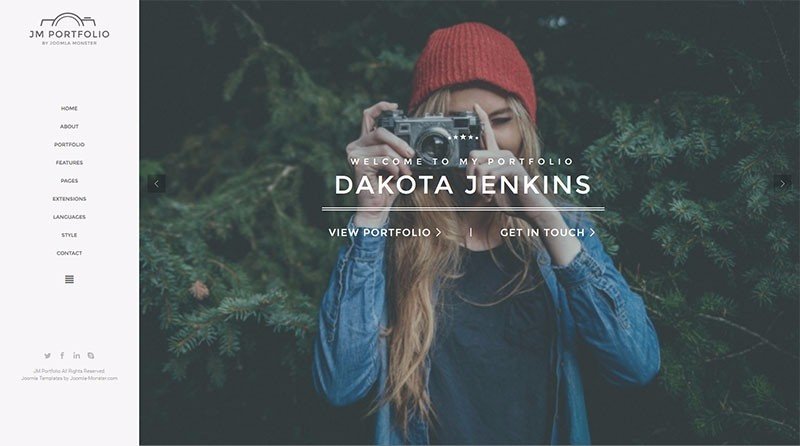 JM Portfolio is the best photography portfolio Joomla template. It was designed for photographers, designers or creative agencies. It's also suitable for any kind of photography portfolio websites like wedding or events category. Templates come with a clean design and it's purposed to promote pictures. It allows displaying high-quality photos, videos, and galleries. It looks great on all types of screens and devices.
Need a professional or personal site about photography then it's the perfect template for you! JM Portfolio template offers a great blog site to describe or promote your works too. DJ-Reviews rating Joomla extension was implemented here - it gives the possibility for visitors to rate and review articles.
JM Trendy J2Store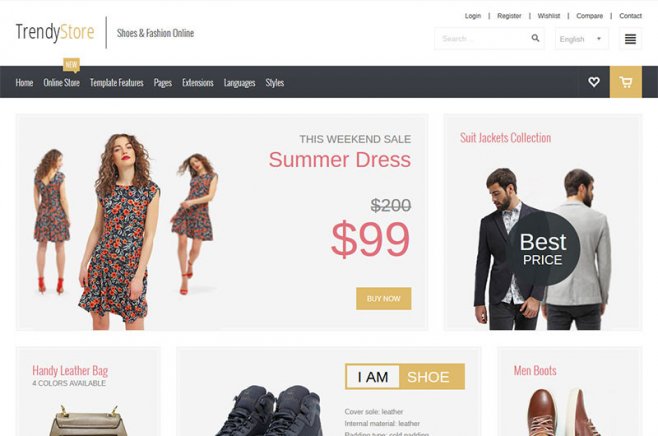 JM Trendy J2Store is an elegant, multipurpose e-commerce Joomla template with implemented J2Store store component as the e-commerce solution. J2store shopping cart template is one of the best e-commerce extensions for Joomla (lets to use articles as products).
Template's demo site provides 2 versions:
Example for fashion online store
Example for home accessories online store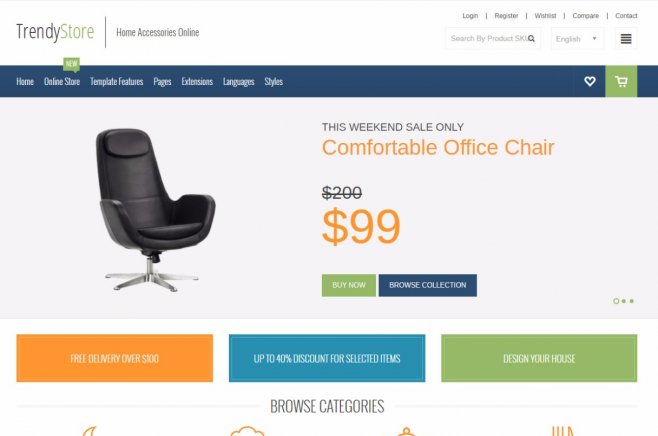 Joomla online store template powered by EF4 Framework, advanced menu system and new plugins for DJ-MediaTools (to present slides and galleries) and DJ-Reviews ( to rate and review store products) extensions to support J2Store products!
JM Simple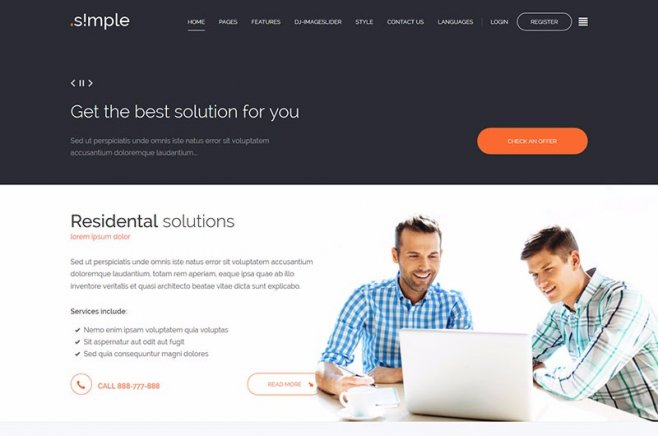 Simple Joomla template for any business. The template is WCAG ready in case you need to enable options for people with visual disabilities. The template comes with 3 demo versions for a services company, hosting company and marketing company.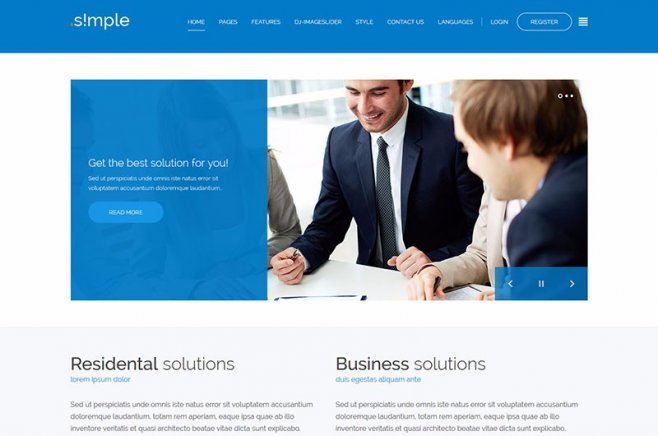 JM Hotel
This template has been converted from EF3 to EF4 framework because of many frequent customers requests, and here it is! JM Hotel is a professional and eye-catching responsive hotel Joomla template. It's the best template for a hotel, resort or any other accommodation related business. This template is powered with many functionalities and features. It uses the DJ-Catalog2 Joomla catalog extension - the perfect tool for an elegant hotel rooms and apartments presentation. The template supports DJ-MediaTools component (allows to create slides or galleries) as well.
The demo site contains three version examples - see the possibilities of this template.
WordPress themes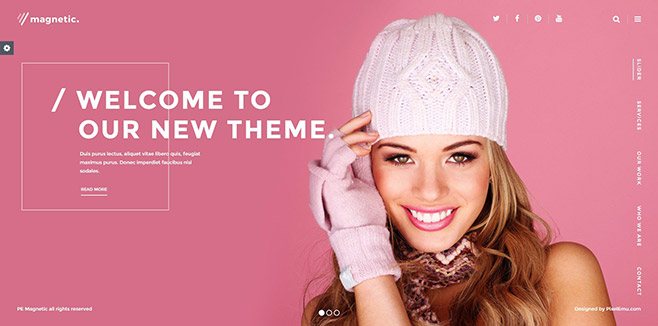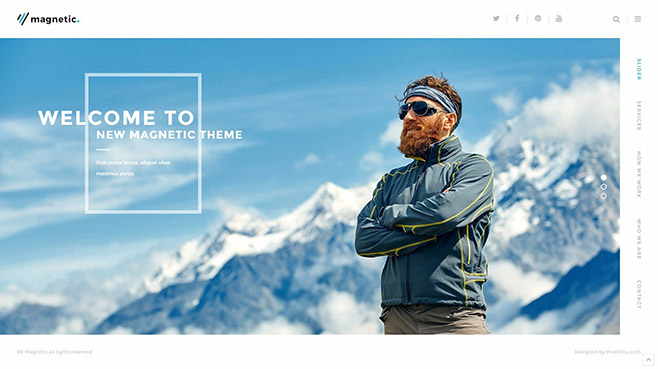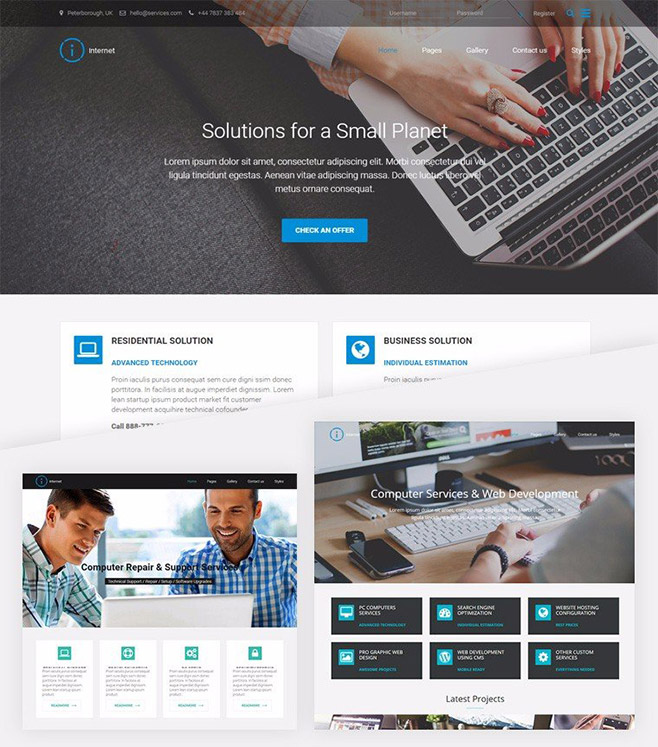 School WordPress theme , Kindergarten WordPress theme , Language school WordPress theme + WCAG compliance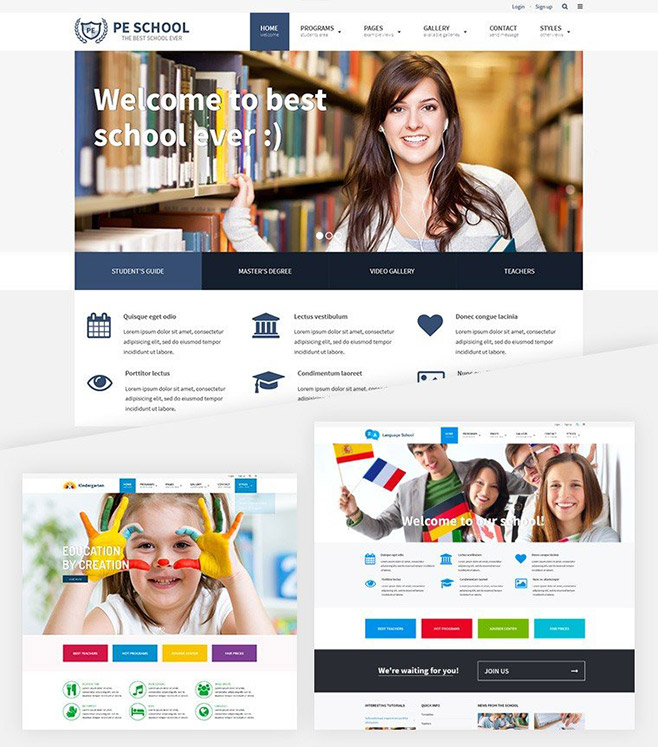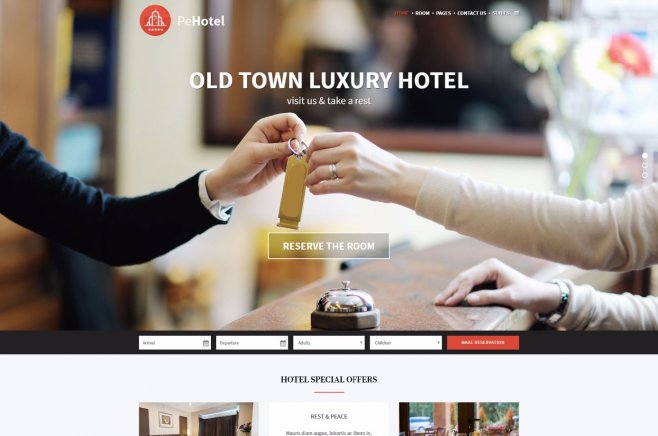 Business WordPress theme, Medical WordPress theme, Car mechanic WordPress theme + WCAG compliance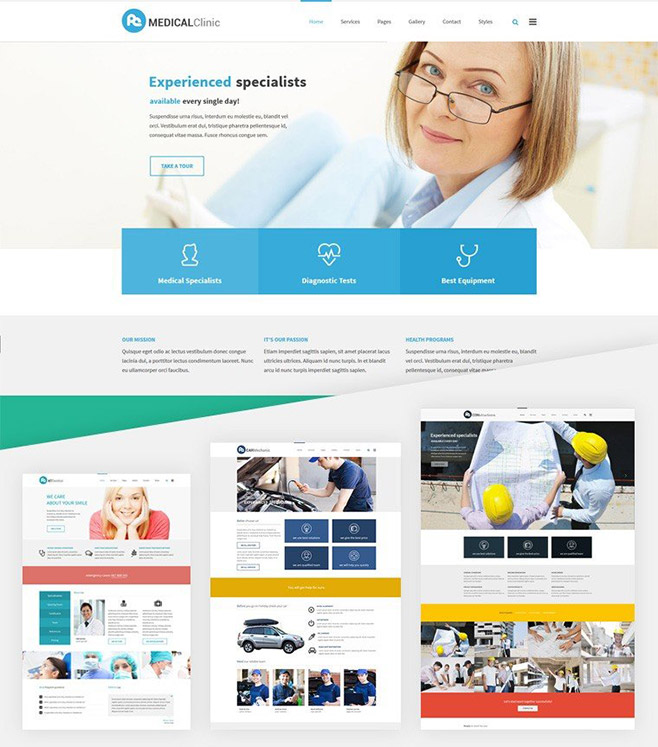 Like it? Please share! Thanks :)