Use our EF4 framework for your commercial Joomla templates!
Are you looking for the perfect free Joomla framework for your excellent commercial template?
Do not waste time, EF4 Joomla Framework has everything you need to create a professional Joomla 3 template!
We encourage all Joomla developers to try our EF4 Joomla Framework to build your successful commercial template.
The eye catching template design is a partial success only. Customers searching for best Joomla templates often need to do some modifications to the template design but they do not want to pay for it :) The common question you probably will get is "How to customise my template?" Usually customers are not familiar with template coding. What is more, HTML, LESS and CSS3 are the kind of secret knowledge for them. However your client does NOT have to know about the template code structure, he needs the site working perfectly and fast loading! You may fully satisfy your client!
Give it to your client! Use our EF4 Framework to build and sell your templates with a success.
Let's take a tour and see the intuitive template configuration settings that you may deliver to your client if you choose EF4 Framework as a base - engine for your template.
Allow users to configure the basic settings, starting from uploading a logo image to enabling off canvas sidebar.
Check the full description of basic settings.
Easy layout configuration is a strong point of the EF4 framework features list.
With layout builder the user is able to adjust his site layout moving blocks by drag&drop option. What is more, there is also a possibility to customize responsive layouts starting from large screens to extra small ones.
Check the full description of layout builder
Advanced font settings configuration allows customize fonts for main site areas.
Customers may select one of the specified standard fonts, +500 Google Fonts or generate his own web font.
Check full description of font settings
Color modifications may be done at the back end or front end via Theme Customizer.
It's not about main sheme only, the user may choose colors for almost each template area - the number of fileds depends on the template design. It's such detailed configuration that customer may change details like containers borders! The coder may add as many fileds as he needs to let client customize them!
Theme Customizer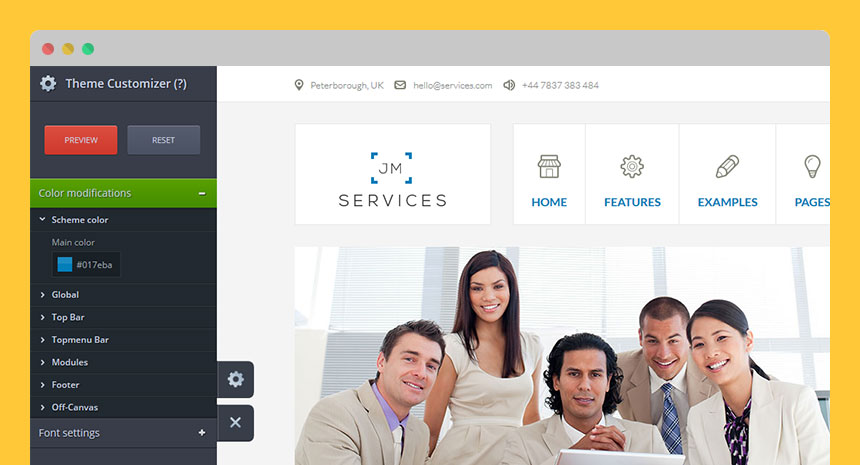 Template Back End
Check the full description for theme customizer
Check the full description for back end color modification
At advanced features configuration tab your customer will find the possibility to add custom code from Google Analitics.
Or any other code that have to be entered in the template head section, compress CSS or JavaScript files or enable the Facebook Open Graph protocol.
Check the full description for advanced features
After configuring all those useful & handy settings let store them and load at any time!
Check the full description for storage settings
How to start?
We suggest downloading our free Joomla template based on EF4 - JM Services. Check its code and start building your commercial template immidately!
Since we are also creating our templates with EF4 Joomla Framework we guarantee keep releasing updates and fix bugs as well as improving it with new helpful features.
NOTEYou are not allowed to change Joomla-Monster logo and links in the EF4 Framework. EF4 Framework files are copyrighted by Joomla-Monster.com and cannot be changed.
Get familiar with template files structure
Easy customization is really easy :)
Watch the video that presents how quickly the custom may modify the template based on EF4 framework.