JM University check what's great about this multipurpose education Joomla template.
JM University is our latest template directed primarily to schools. It's a modern platform where you can place all necessary information about your school. This is ready-made solution for people who want to quickly and efficiently create a modern website. Let's look at the main features.
Theme Customizer - change template colors without touching code
Would you like to change the background in template? Maybe you have another idea for font colors? Our template allows you to make such changes in a few seconds! Through functionalities of EF4 framework you can make simple changes without touching the code.
Check details about Theme Customizer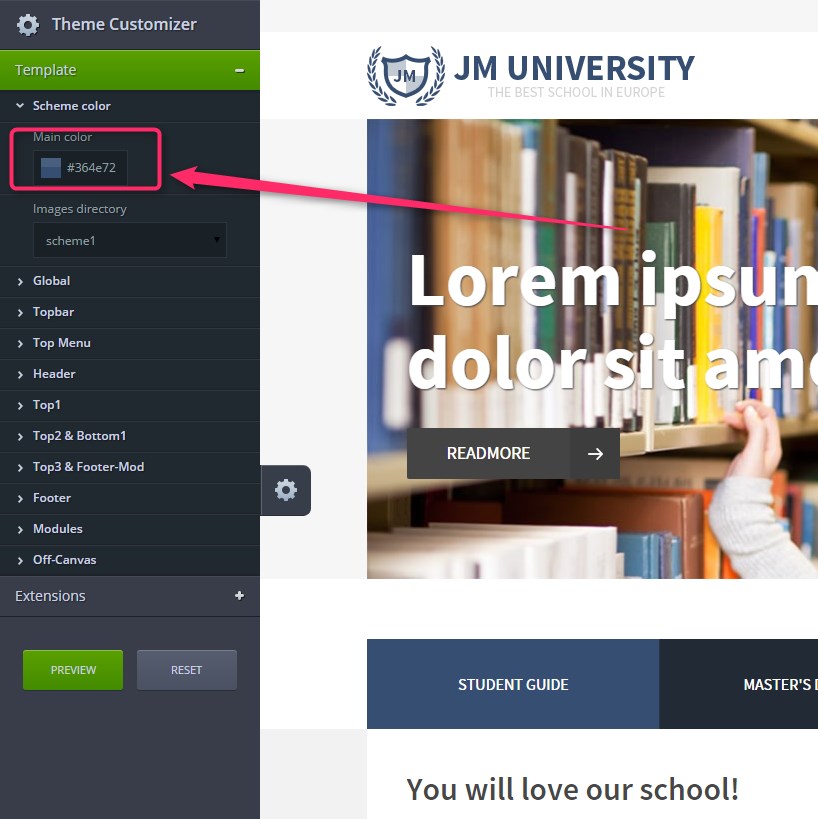 The same and even more you may done at backend.


Layout builder- change template layout seamlessly
Would like to create a different structure of layout than the one that we offered? Nothing easier! Thanks to our wonderful tool Layout Builder you can customize layout of Your site in a very simple way. It's possible to replace order of block, number of module position to display or module position size If you would like to customize layout for responsive media, for example if you don't want to display some blocks you can hide it to current screen.
Tabs and Accordion - display articles and modules in eye catching way
In a very simple way you can add and modify items from Tabs and Accordion. Customize them to suit your needs, and they'll surely attract the attention of viewers. As you can see in the example, you can assign to them single articles as well as a group of articles, module or a video.
Tabs view
Accordion view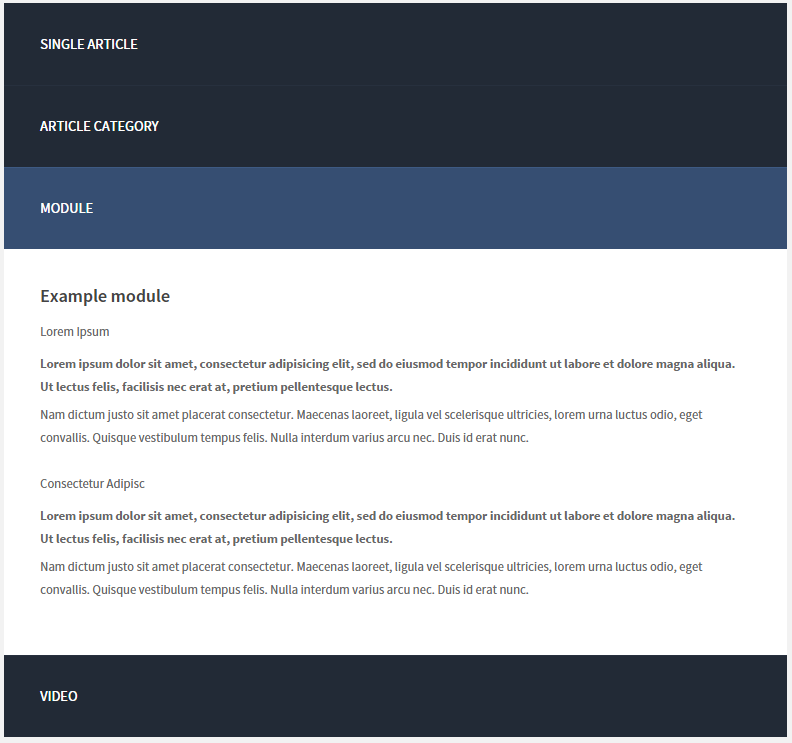 Glyphicons - use them in text to attract students attention
One picture says more than a thousand words, so use symbols to express the content! You don't have to create icons or buy them. Everything you have in a package.
How to use available icons? In your custom HTML module paste the code with the specific icon class name:
<span class="icon-joomla">&nbsp</span>
The full list of all available icons you will find at thypography section on the demo site.


DJ-MegaMenu - advanced menu system
Professional and functional menu will give you comfort to navigate the site. DJ-MegaMenu gives a lot of settings: changing the type of submenu (dropdown or tree), possibility to divide into submenus on the column, set the menu as sticky and add logo into sticky, customize animation properties and many others! In mobile menu option it's possible to select at what screen resolution will appearing menu in offcanvas position instead the standard appearance.


Off Canvas sidebar - you have 2 possibilities
Off canvas sidebar it's a perfect tool for navigating the website.
You can use default off-canvas. By default it will appear to the right side of the screen.
Check basic settings for the template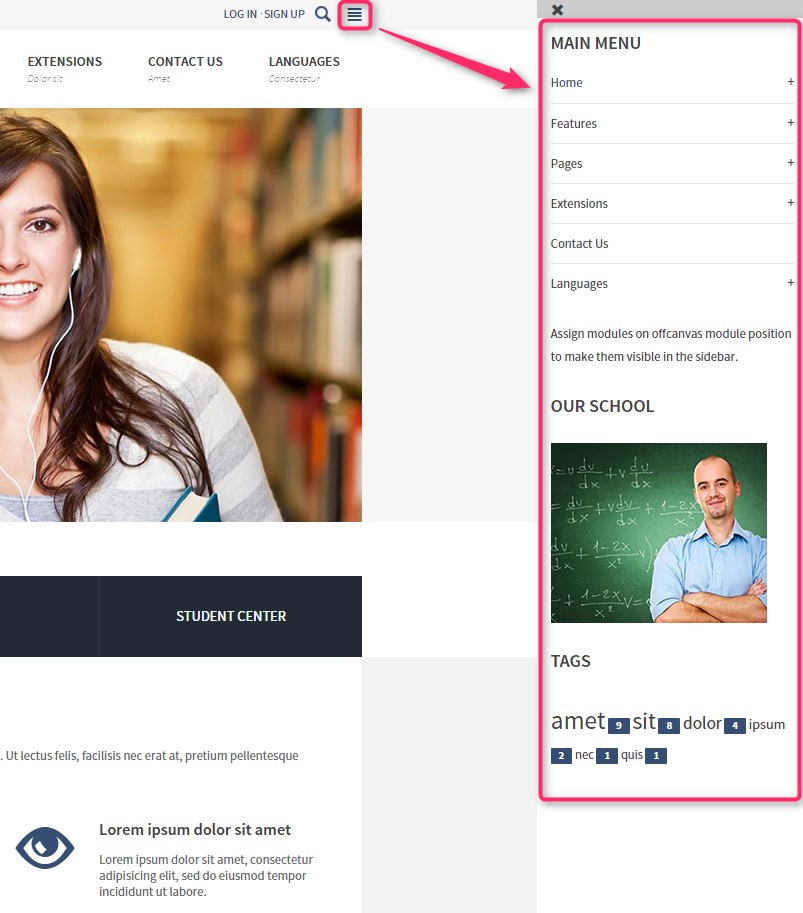 Or if you prefer, you can disable template off canvas for mobile phones and replace it using dj-megamenu off canvas!
DJ-MegaMenu menu settings for mobile
This is how it looks on mobiles

Pricing tables - show your school paid offers
With our template you can easily customize a table of prices. You can quote the price of, for example, an additional extracurricular activities.
You can add or delete items that are included in the price. In the typography you will find the source code to display your pricing in custom HTML module or in article.
How to create a custom HTML module?