Best eCommerce website templates and eCommerce software based on Joomla CMS.
Are you thinking about how to build an eCommerce website and looking for best ecommerce software to make your dream come true? We have researched for eCommerce business templates and give you some suggestions about eCommerce solutions of best Joomla templates that come with flexible eCommerce software to make your online store effectively.
We have listed best Joomla templates for best eCommerce websites that definitely would attract customers with excellent eCommerce website design and UX to help to increase your sales. Most of templates providers offer or suggest a good eCommerce website hosting - this way you may buy a full compatible package.
Furniture and decor eCommerce website template
A responsive Joomla template for a modern online store that will give you a chance to launch a successful eCommerce website and get profits. Purposed for furniture and decor store. This premium template is built on J2Store e-Commerce component. The J2store extension is a popular shopping cart solution for Joomla allowing to sell various products.
The template's purpose is just an example you can use it to sell other products like clothes, jewelry, software or anything you want.
JM Lux is packed with Joomla extensions: DJ-MediaTools, DJ-MegaMenu, DJ-Reviews and free Joomla modules like simple tabs, testimonials or social icons. All of them were implemented to help you achieve your goals and provide a pleasant user experience. You have to check the demo site - there are two versions available.
eCommerce website template inspired by Amazon & incl. GDPR & WCAG compliance
A responsive, GDPR (General Data Protection Regulation) compliant eCommerce website template with plenty of customization options. Purposed for games, electronics, clothes, furniture store, anything because it uses eCommerce software DJ-Catalog2 that allows creating custom fields.
It's a good solution for an eCommerce website developer or just a personal customer looking for ready to use eCommerce template with the possibility to install demo copy. The eCommerce website design and UX is inspired by Amazon store implementing best selling tricks.
Win against competition, create an eCommerce website with WCAG compliance which means website accessibility for people with disabilities.
eCommerce Joomla jewelry template
Hot Jewelry is responsive e-commerce Joomla jewelry template, powered by VirtueMart component (allows to launch a free ecommerce website) and dedicated to online stores that sell jewelry, diamonds, watches, gemstones and similar products.
Some features are:
Retina ready images in articles, custom modules, and carousel
Unlimited number of module positions
PSD source file and fonts included
Support for RTL (right-to-left) languages.
eCommerce website template related to organic products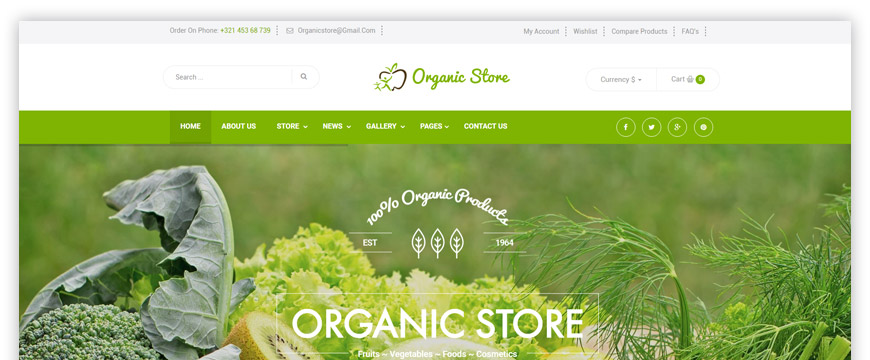 A professional responsive Joomla Template based on J2Store component and purposed for all types of organic products. Build an eCommerce website related to farms, food company, organic food and similar categories.
This template comes with a creative, elegant and modern homepage design. It suits well for all kind of agricultural business, organic food product shop, farm, bakery, natural cosmetics websites.
Catalog & eCommerce website template inspired by Castorama
An interesting minimalist eCommerce design of eCommerce Joomla template purposed for a powerful directory site with eCommerce software features.
This eCommerce & directory website template design is inspired by Castorama and purposed for electronics, software, hardware, mobiles, home decor or garden accessories store.
This website template uses the most popular Joomla catalog / eCommerce extension: DJ-Catalog2 with is GDPR compliant. You don't need to look for eCommerce website builder - simply use DJ-Catalog2 component and launch your store.
Present products in a very attractive way. Use many usable features like custom fields, locations, search filters, query cart. This multipurpose e-commerce template is customizable and flexible in many different ways - your website visitors will love its look!
eCommerce Joomla template for fashion and beauty store
A responsive eCommerce Joomla template for the versatile online store and demo site is purposed for fashion and beauty store.
It's based on Hikashop extension which helps you run your store easily. This template brings several useful features like Drag & Drop Page builder or increase conversion rate.
eCommerce solution for events or entertainment websites
The music eCommerce Joomla template perfect that present your music store items. Purposed for music accessories store. Allows you to create eCommerce website to sell music albums, concert tickets, and various accessories.
This eCommerce Joomla Template suits well for music, events or entertainment websites. Soundbeat template comes with 4 predefined color styles, unlimited color combination, 7 custom module styles, built-in audio player, slick image effects.
eCommerce website template for a shoe store
A responsive, eCommerce Joomla template for various shop types: shoe store, fashion, clothes, the demo site is purposed for a shoe store.
It comes with a modern and creative design concept and it's based on Virtuemart eCommerce software.
JA Shoe Store includes all eCommerce pages: product categories, product list, product detail, shopping cart, checkout, brand, manufacturer.
One-page eCommerce solution for a restaurant, bakery, pizza
One-page and eCommerce template designed with clean & unique UI elements which can be easily customized. Purposed for a restaurant, bakery, pizza, food business store.
It's integrated with J2Store store extension, that helps you to sell products with ease.
Multipurpose eCommerce Joomla template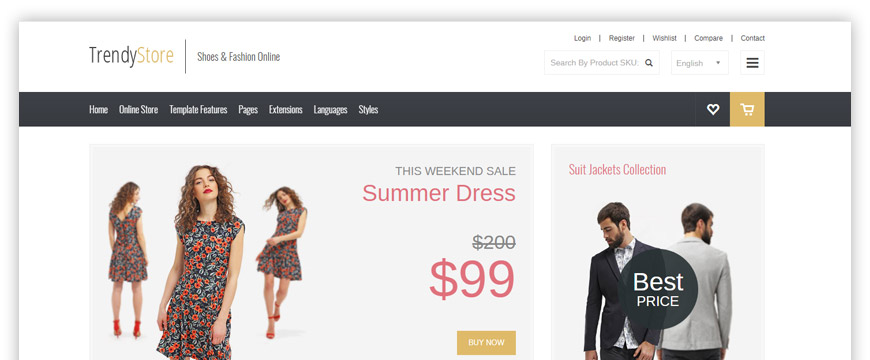 A premium multipurpose eCommerce Joomla template based on powerful J2Store store component. It's a very elegant template, with a clean & modern eCommerce website design.
The demo site is purposed for fashion and beauty store.
The template is powered by EF4 Framework, advanced menu system and Joomla plugins for DJ-MediaTools (slides & galleries tool) and DJ-Reviews (rate and review tool) extensions. Both support J2Store products.
eCommerce website template for the electronics store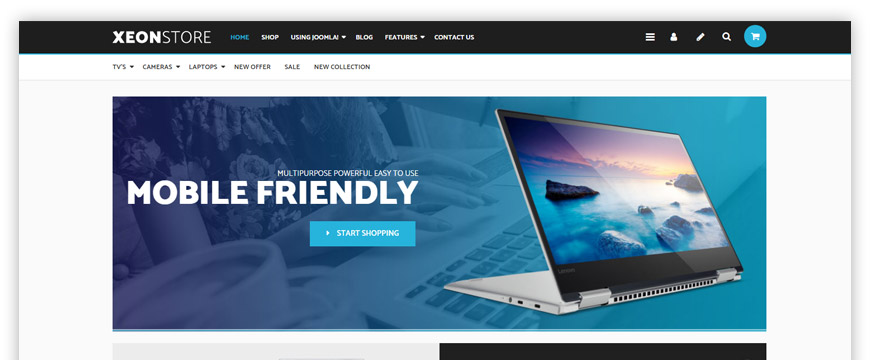 A modern, multi-purpose, responsive Joomla template based on Virtuemart component.
The demo site is purposed for the electronics store. This e-commerce platform comes with a set of powerful built-in features including a choice of 6 color styles, eye-catching Product slider modules, 600 Font Awesome icons,
testimonials module, custom CSS styles for the Virtuemart shopping cart extension powerful built-in theme customizer.