Free Joomla modules for every website
Make Joomla easy is a motto of a free Joomla modules collection created by Joomla-Monster team for each Joomla user. The simplicity of configuring and usage is the main feature of those modules. They are created for displaying the specific content such as a simple slider, pricing tables or social icons which mean that a number of settings are quite limited and related to the purpose only.
The inspiration for making 10 Joomla modules for free was JM App Joomla template which is the sales website template presenting a product, showing a product's best features, functionalities, benefits of using, showing some examples including pictures and videos, and finally displaying the pricing options. Taking into account the number of sections we wanted to add for the product presentation the priority was the choice of lightweight and fast loading tools for displaying all those content types. That's why we decided to create ready-made modules for this template only and then thought it would be great to make them free and available for download for everyone.
All those free Joomla modules are very easy to configure with back-end and front-end edition. Take a look at the example of JM Social Icons module front-end edition. Once you are logged in to the front page with your admin access details you may edit the module by clicking the icon as on the example:

Then go to the module options to configure settings: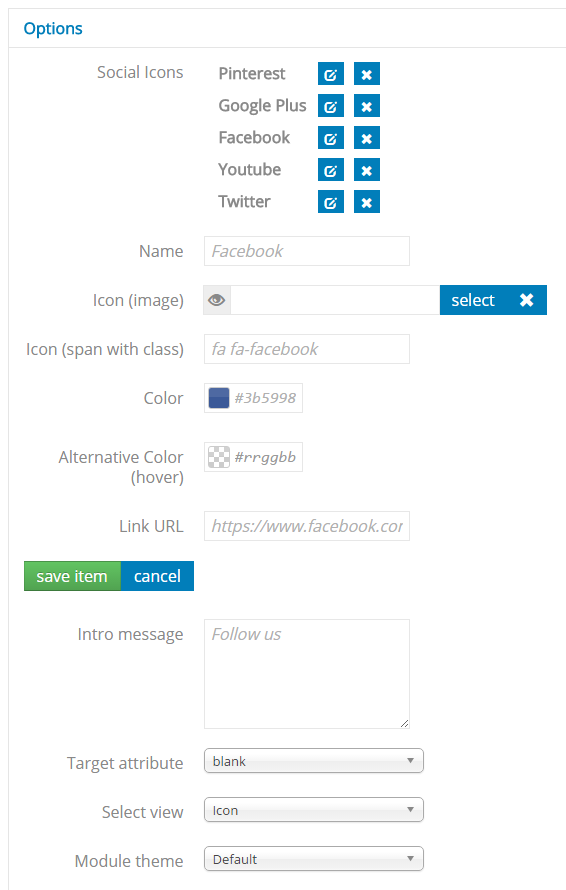 If you need to attract your site visitor attention to a specific product or service use JM Simple Image Slider module. Do not overload your site with a component stuffed with many scripts to display a simple slider on your business website. Use a high-quality picture, power title words, and a description and get the eye-catching effect with not much effort. The slider module is also mobile friendly adapting the layout to mobile devices, and support swipe navigation for touch screens. Combining module configuration settings, you may achieve quite many slider views.
See examples of simple image slider views
Another free Joomla module for displaying images but in a 360 carousel, flat, coverflow styles. It's the awesome tool if you would like to display image shots all in one place to give your site visitor quick view on a product, visual summary of overall product purpose of usage. Optionally you may link images to any source which extends the simple image carousel module functionality.
See examples of image carousel views
Features listing module for Joomla
Thre are two modules that may be used for describing the appearance of the product or your company service. JM Best Features gives you the possibility to put the main image you want to describe and then add items around or next to the picture. Optionally you may configure other layouts. The second module JM Additional Features is more simple and recommended to show additional features of presenting item. Both modules allow using font awesome icons or glyphicons for each feature. Additionally, JM Best Features module gives the possibility to upload the image icon instead of font icons.
See examples of best features views
See examples of additional features views
You will find this tabs module very handy in case a need for including some different content in tabs. This great tabs Joomla module supports displaying any content starting from the simple text to a responsive embed video. It's worth to mention that you may use the built-in Joomla Plugin Content - Load Modules and use syntax to load any module in tabs. Moreover, tabs may be oriented vertically or horizontally, so this option gives the possibility to achieve few non-standard tabs views.
See examples of simple tabs views
It is recommended to add testimonials on sales website to show off the real customers endorsement for your company. There's nothing easier than using the free testimonials module.
See examples of testimonials views
Nowadays there is no website without links for company social profiles. This social media icons Joomla module is an extremely simple and flexible tool since the number of social icons are unlimited, I mean there is no a ready-made set of icons to enter, but you may create as many social icons as you wish using font awesome icons classes.
See examples of social media icons views
Beautiful pricing tables that simply encourage to buy anything :) Each item you see on the single pricing box is editable, and you may set your currency, unit (for example period like in the example), the plan options or the short description. Additionally, you may set different colors for each pricing box. The great option is a possibility to make an item stand out from the other pricing boxes.
See examples of pricing tables views
This module is called JM Team Profiles since this is the most suitable name taking into account social icons to item profiles that may be displayed below the image. But as you may see on the demo site it may also be used for other presentations not related with profiles at all :) Options like profession or name can be replaced by any other info to suit your needs.
See examples of team profiles views
The very popular trend nowadays is adding a counter of current company statistics reports and this module is perfect for this purpose since you may set your unit for each item which makes the counter very adjustable to your business profile.