Create an e-commerce website with Joomla to sell your products online.
Selling online with your Joomla website may take just a few minutes. Thanks to J2Store, a native e-commerce and shopping cart extension for Joomla, you can create an online store in less than 30 minutes. No extra overhead. No learning curve. Just turn the default Joomla articles into products beautifully within minutes with J2Store and start selling.
J2Store is more than just another free Joomla e-commerce plugin. It has an array of incredible features that makes it one of the most widely preferred e-commerce platforms for setting up a professional and user-friendly online store. An open-source platform, J2Store natively integrates with Joomla, making it a perfect choice for taking your business online. So let's look at how J2Store can help budding online merchants to build their store.
Create the online store for free!
Download J2Store. It's Free. That is your first step into creating an e-commerce website for your store. If you are not so familiar with the website or its functionalities, don't worry. You can find live storefront demos created for your convenience and better understanding. On the completion of the demo, for sure, you will find setting up an online store is as easy as 123.
Simple and flexible online store
One of the J2Store's biggest benefit to e-commerce newcomers is that merchants can exercise a whole lot of flexibility with their products, without having to know too much about the technical side of things. Products can be categorized, given sale prices, options, variants, inventory, shipping and more. Additionally, you can sell physical, configurable and downloadable products.
Merchants do not have to go beyond their comfort zone when building their online store. You can build a fully functioning online store within your Joomla website, which could be a blog, a corporate website or even a professional website. You do not have to have a separate website for your online store. It could be built right into your professional website and present them together seamlessly, and it's all thanks to J2Store being a Joomla extension.
Launch online store quickly
People often think that it takes months to build an online store and launch. That was history. The quicker you go online, the wiser. That is where J2Store comes in handy. Just create an article, set a price, stock and publish it. You are ready to sell. It's that straightforward and fast.
It may sound like a fancy promise. But, with Joomla and J2Store, you can create an eCommerce store for free in minutes. Whatsoever may be your product list, J2Store will take you to the road of a straightforward e-commerce journey. Everything you need for your e-commerce website is readily available out of the box. You can build a small to large online stores comfortably, with 100+ e-commerce features offered by J2Store.
Crossing over 3,10,000+ downloads, J2Store is a very popular, robust, flexible, lightweight, yet simple Joomla e-commerce extension that will help you build a professional e-commerce store much faster.
Turn the articles into products
This is where J2Store scores over other Joomla e-commerce extensions. It turns the native Joomla articles into products. You do not have to re-invent the wheel or learn something new. If you know how to create articles, then you can build your product catalog without any issues. While creating the article itself, you can set the price of the product, stock, weight, related products and more.
Take a look at the J2store features in action, below is an example of the cloth online store template created with J2Store component:
Manage Your products in style
J2Store takes care of almost all your product management needs professionally. It offers 4 product types which pretty much covers all the catalog requirements for an online store. It even goes beyond by offering the possibility to create customizable products.
Variants: Products come in different sizes and colors. Selling them in combinations is a wise idea. J2store Joomla Shopping Cart comes with a built-in variant/combination generator, saving you the trouble of manually adding them. Just define the options like size and color and let J2Store work its magic. You can manage stock and price for each variant.
Customizable Products: We know how elaborate your dream of keeping your customers comfortable at your eCommerce store. J2store Joomla Shopping Cart helps you allow your customers to customize their products with relevance to the style and idea. Chain your product options. Eg. If a shopper orders Pizza, he can opt for the toppings of his choice.
Downloadable Products: You can sell your files like ebooks, magazines, pdfs and more. J2Store supports selling even files hosted in Amazon S3 using a plugin.
Multiple Images: Showcasing the product in various dimensions makes it more appealing to the eyes and customers are easily attracted to the product. With J2store Joomla Shopping Cart, adding multiple images comes handy to you.
75+ payment integrations
J2Store is integrated with 75+ payment gateways in the world including the popular ones like PayPal, Stripe, Authorize.net, 2Checkout, PayFast, Mollie and more. Accept credit card, debit card payments securely in your online store.
45+ Apps and extensions
Need additional features for your store? You can choose from a vast range of apps offering different functionalities. There are plugins to add customized discounts, catalog enhancements, shipping methods, integrations with third-party services and more. Just choose only when you require and add to your store.
Plenty of Joomla eCommerce templates with J2store support
This is the best part of J2Store. You have plenty of templates that comes integrated with J2Store. So starting your online store is much easier than you think. There are a good set of responsive Joomla eCommerce templates that go with J2store Joomla Shopping Cart extension just for FREE. Add a template to your store and elevate your web front to appeal better to your customers.
Here is the another example of e-commerce website template built with J2Store online setting component: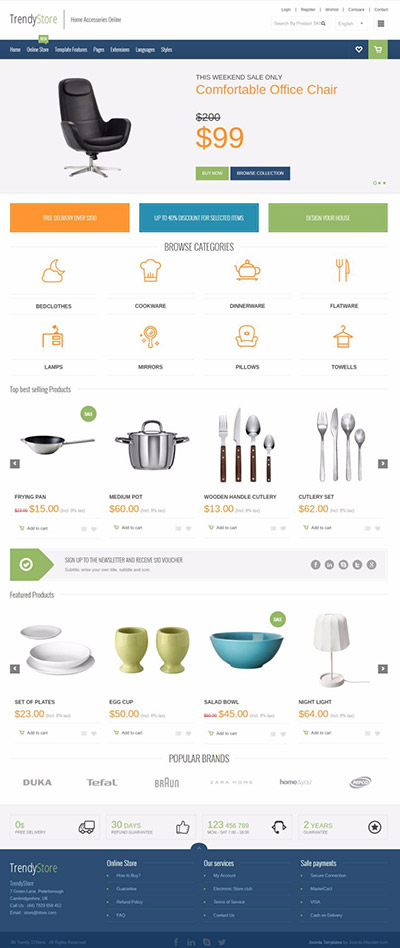 Best customer support
This is the part you will love most. Experience the best customer service. Got stuck at something? No worries. Just post in the support forum or create a ticket. The support staff go beyond and help you all through the process of building an online store.
Start selling online with J2Store and build a profitable online business. We bet you sure will have fun taking up your business online.