Catchy promotional ready-made page for ZoneStore eCommerce website design like Amazon - part 2
"A promo ready-made page" is a ready solution for ZoneStore eCommerce website for Joomla and can be very useful when it comes to a promotion of a specific product or a larger number of selected products on your online store.
The offer may concern, for example, the whole category or products containing particular elements. This is the perfect place on eCommerce website to carry out a given promotional campaign.
Once you click on the top banner of the demo site of this eCommerce website template, we show off four chosen offers, but the number of items is unlimited.
Template's demo versions
see examples for the front page
Everything works thanks to a simple to use a free Joomla module. Each product, product category or discount offer (our name is only an example here), apart from the eye-catching title, may include a "read more" button leading to the subpage, but also may contain beautiful product o arrangements photos that will attract customers attention. As is well known, high-quality product pictures are an essential element of any store offer because it is the first thing that draws visitors when browsing a website. As you can see in the example images are using the Image hover zoom effect.
Take a look how easy you may manage all items, add new ones and modify all info - we use the free Joomla module here called JM Additional Features.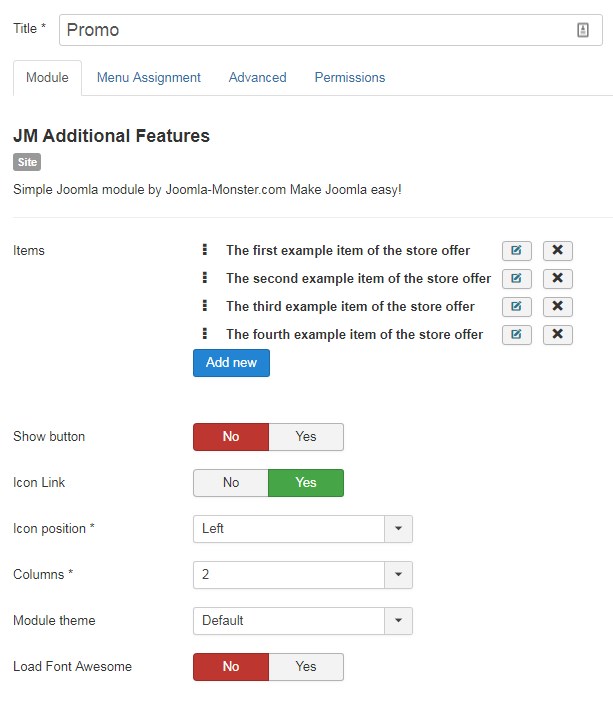 Below the promoted items, with the products, you can find the "INSPIRED BY YOUR VIEWS" section. This is just another example of promoting your online store products to draw the customers' attention and show products already viewed by the user. At this point, you can present a "Hot deals," or most popular products offer or simply random products. The offer here includes a set of products with small images, product names, categories, and prices. The product name and category are linked so that we can move quickly to the chosen item or a category.

Below you may take a look at all settings of this DJ-Catalog2 Items Joomla module to show more or less info about each product.

Want more?
ZoneStore - online store like Amazon. Description for front page elements - part 1.
Help & FAQ ready-made page for ZoneStore eCommerce website design like Amazon - part 3
Optimal products list view for eCommerce website. Engage customers in browsing products - part 4
eCommerce website accessibility for people with disabilities. WCAG compliance.