Best Joomla templates for creating a product catalog websites.
Running a product catalog website is a good idea when you want to showcase multiple products and categorize them. But, creating a kind looking and functional site isn't always easy. If you don't know what you are doing, you can easily spend hours and stay in someplace. Thanks to Joomla catalog templates creating an online product catalog website is easier than ever. All you need to do is to find this one catalog website template that has all the features you are looking for.
Joomla is the perfect platform if you are planning to create an online product catalog website. There are plenty of Joomla templates available over the web, and it might be difficult for you to make a right choice. We've listed best responsive Joomla templates that use Joomla product catalog extension that can be used to create product catalog sites for different purposes. These templates are unique in the way they can be used, and each comes with many customization options. When you are done with the customization, you can be sure your website doesn't look like the others.
Most popular Joomla product catalog template
Are you looking for a perfect tool allowing to prepare a beautiful product's presentation? The best choice for this purpose is a product directory Joomla template.
JM Product Catalog is a unique and modern premium Joomla theme that offers a bundle of useful features. It's responsive Joomla template, so it looks great on any device. Its design is fresh and has a comfortable feel to it. An essential element is a built-in DJ-Catalog2 extension that allows to create, manage listings and show listings. Product catalog theme was designed for demonstration, advertisements, showcase and even for sale of your products. Catalog Joomla extension offers a lot of usable features (custom fields, locations, search filters, query cart). Now it's easier than ever to launch a well-organized presentation of cars, electronics, software, mobiles, home decor or any accessories for example.
Trips and tours website
Nowadays, travel is a serious business that turns around big money. So, if you need to build travel or tourism related website in mind, there's a lot at stake to make sure that your site looks perfect. Prepare a fantastic presentation for potential tourists who are planning their next vacation and might be visiting your travel agency or hotel shortly. For this purpose, we have prepared two examples of travel Joomla templates, that can be more than helpful.
JM Trips is a multipurpose one page Joomla template, which suits well for professional companies offering travel experience. It doesn't matter whether you are a tour operator, web agency owner or a tour guide with a hiking or trekking expert level. It's the right solution for your site because it allows organizing travel plans in one place. The neutral website design makes it easier to adapt the look depending on your needs. The important thing is that you can choose between and one page or multipage website. The Joomla product catalog component, DJ-Catalog2 implemented here allow you to showcase the trips ( or other services) listings.
An alternative option is a JM Apartments template that brings a minimalistic appearance. See the demo example of trips offers using the same holiday Joomla template.
Hotel website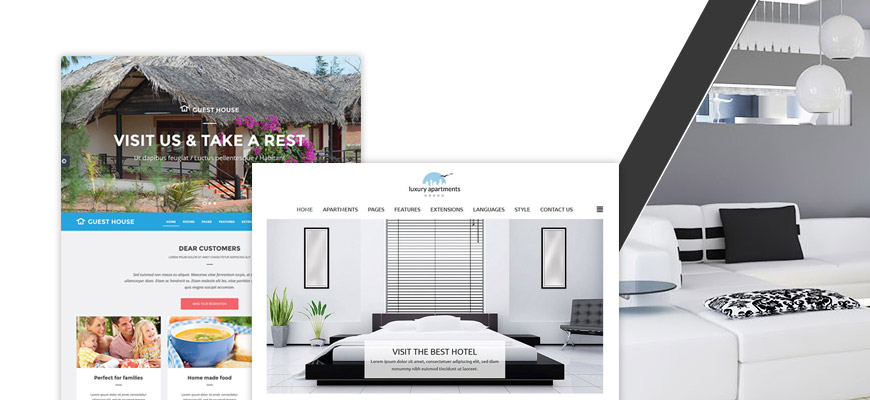 JM Apartments and JM Guest House hotel Joomla templates are our choices here, to recommend - see different demo versions available. The Joomla hotel template with minimalistic design purposed for presenting the best hotel offer.
The DJ-Catalog2 extension was also implemented here (in each template) allowing the website's owner is creating eye-catching products catalog website packed with incredible features. An example? Website's user can manage the list of custom fields like room types, room equipment, and services assigning them to specific apartments. It allows presenting an exclusive hotel deal showing rooms, hotel interior and their reasonable level of comfort. DJ-Catalog2 comes with a feature that allows visitors to send a quote or reservation requests.
Car rental or dealer website
The cars category is a specific type of a modern business. And therefore, car related website needs some extra features. If you want to develop a website from cars category, you will have to choose one of these two cars Joomla templates. JM Car Dealer and JM Apartments (see the demo example purposed for cars Joomla template) have all the elements that are essential for any cars related site.
And both of them are using DJ-Catalog2 Joomla product catalog extension. Users can add, edit and manage their online inventory. So you need the vehicle listings? Or beautiful gallery? Or maybe a functional contact form? Each of these themes is designed for creating functioning dealer agency or a simple vehicle listings directory site in mind. That is not everything. You can also build car services ( for example oil or tires change), workshop, car repair, vehicle local distribution or even car wash website. You can be sure that your visitors will be enchanted!
It's worth to mention the powerful features that you can use with this theme are:
the possibility to create an account for an employee of dealer agency and let him enter car offers
the possibility to use the " Add To Quote" option
Architecture, constructions and buildings website
If you are creating a local construction company website or an online resource dedicated to construction, engineering, modernization, & operation of public and private buildings, then you should think about using a Joomla templates that will make some things easier.
JM Minima is the first choice for architecture industry if you do not want to risk getting lost in a crowd.The power of this architecture Joomla template is the minimalistic but elegant website design. The wide range of features and tremendous possibilities makes this theme an excellent tool for building the products catalog website excluding payment option.
Now let's take a look at JM Renewable Energy. This eco Joomla template comes with a clean design and organized layout containing the professional arrangement of Joomla modules. The leitmotiv of renewable energy sources is just an example; this Joomla catalog theme suits well for architectural design practice, construction company website or property development company as well.
Furniture product catalog website
Using the right Joomla template for furniture & interior category will help you meet the requirements of all your customers and survive the intense life tempo. JM Exclusive Furniture ready Joomla theme may be the real time-saver for you. What kind of pages does this furniture Joomla template fit: selection of display & presentation furniture, home accessories, decor, patio furniture, outdoor furniture, garden furniture, or even a single manufacturer website.
Besides a lot of unique options, it uses the DJ-Catalog to present listings, and you can easily assign frontpage gallery slides to the particular catalog product.
Summary
It is never an easy task if you want to make big things. Building an online product catalog website and developing it cost much work. We hope that Joomla templates mentioned in this post will be the solution for you and will help you follow your pathway.