JM-Minima - minimalistic but elegant responsive template for Joomla 3.x & 2.5
Recently released responsive Joomla template for Joomla 3.x & 2.5 contains tons of useful features that you may use with ease and enjoy! Learn some of them.
The template.
The JM-Minima responsive template works with EF3 plugin that is some kind of engine for the template.
The EF3 framework includes multiple features that you will find very useful and helpful for configuring your site. Settings relate to template layout, fonts or advanced tools (like developer mode or google analytics).


Module designs
The template provides 5 simple, adequate to the template graphic design modules views.
Entering the correct module suffix allows to achieve the desired module design.
Typography
Do not miss to check the examples of the typoghraphy. The ready to use code simply pate to the Custom HTML module and enjoy the css3 animation effects or any other custom html examples.
3 Commercial Extensions included for FREE!
It's our newest menu that allows to set each menu item and assign any module you want inside the menu's columns.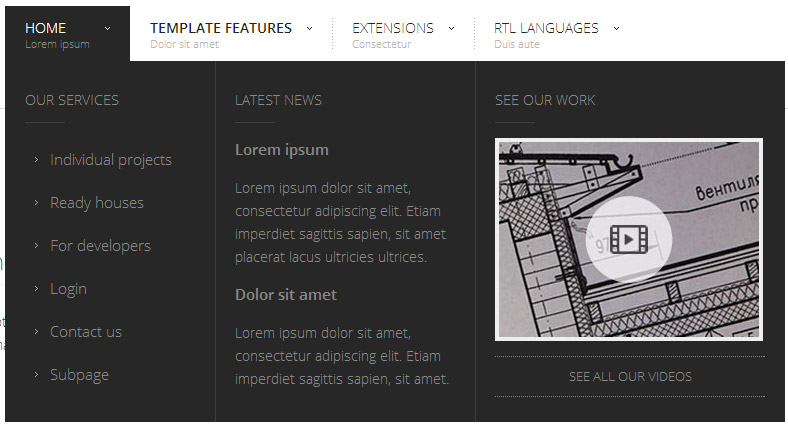 The simply perfect extension for creating slides & galleries (also video galleries) .
Take a lokk at few examples - see more at the demo site in Extensions -> DJ-MediaTools
Slideshow View
Slideshow with thumbnails
Tabber View
Skitter slideshow
The powerful extension for creating the product catalog. It cmes with many modules like categories, filters, producers, related items or search.
The feature of custom fileds allows to build the professional catalog with any kind of products.
Frontpage module
Filters Module
Product with custom fileds in a blog view