Must read about great features of JM Trips onepage Joomla template!
Our latest JM-Trips one page Joomla 3 template is dedicated for all those, who have something in common with the wild journeys into the unknown places. Template is great for unusual travel agencies, survival schools, enthusiasts of adventure sports and so on. The template is perfect for local travel agencies advertise a service to organize events: camping trips, kayaking or holiday travels. It's also extremely suitable for personal blog, describing the events of the trip or designing the page about the natural environment and untainted beauty of mysterious world.
One Page Joomla 3 site
Due to the different needs of our customers we created two proposals to use the template: as a standard template or as a one-page site. What does it mean? If you're planning to create a small website with the most necessary things only, and your menu items will be quite militted, then you can use one-page site feature. I'll show you what kind of effect I'm talking about:
Variables, that store anchor links information are located in language file.
In Menu item submit the relevant value.
But if you want to create a large site or a one-page site is insufficient way for your needs, then simply use standard site navigation.
Theme Customizer
We used the powerful EF4 framework to build the foundations for template. We've enabled to change major colors of the template in a very simple and clear way even for the least experienced user. See by yourself how easy it is!
Two sections (header-bg and bottom3) contains image background. They can also be easily changed by using Theme Customizer.
Layout Builder
Do you need other layout view on your website? May you want to display four modules in row instead of two? Forget about long and tedious reworking the source code. With Laout Builder you can do it in a few seconds- both for standard and responsive views. And we guarantee, that you don't need to know the programming to do it.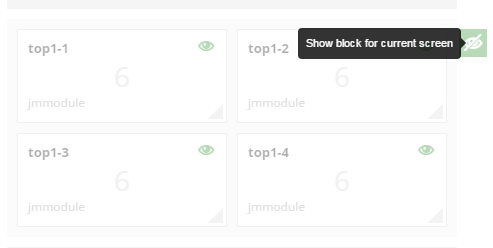 We created several full-width sections. It allows to very impressive presentation of modules. It gives the impression of space and clarity.
Joomla extensions by DJ-Extensions.com
DJ-MediaTools
It's a very comprehensive Joomla gallery extension. It allows you to display various eye catching kinds of album views. Check examples here. You can use this component in many ways. you can create a photo gallery, publish slider module on the home page or create an album that holds items from DJ-Catalog2.
DJ-Tabs
It's a great tool to put content on your website using tabs. You can display therein a single article, article category, video link or any else module located at the selected position. Simple, user- friendly and great looking solution!
DJ-Catalog2
Do you have a company in which you propose to purchase your services? For example, a travel agency that wants to present prices for tours? With DJ-Catalog2 extension you'll create a database of products that perfectly presents your business.
Customers will be able to view your offer, search according to your criteria, ask you about the details of the transaction and order selected product.
There are so many possibilities and it's hard to describe everything in a few sentences. Displaying list as blog or table, create many producers or, for example subsidiaries of the company, while each has other offers, cooperation with the user- quote cart, possibility of archiving items, map of products and a whole range of various modules, displays it all. Despite the apparent complexity, everything works perfectly together.
DJ-EasyContact
This module is used to contact with site owner. The main advantage of the module is readability, reliability and ease of use. Through various styles, you can change the appearance of the module and customize it to your needs.
DJ-Reviews
Nothing affects customer acquisition as much as the advice of other customers. Following this path, we decided to give the opportunity of assessment items on the page. Customers can evaluate whether they like the quality of service, for example, trips. So browsing the product base, we see how item was assessed by others customers.
The best thing is that it all work together. You can create a database of products, clients assess items and we display some of them on the main page in the form of sliders, or Tabs. It allows you to create a coherent website that will appeal to all viewers.