How to paginate your article using tabs, slides or pages in Joomla?
There is a simple but very effective way to create an article in a non-standard way, especially if you need to introduce very long article or display many threads on the one page. Joomla brings you a possibility to divide the article, segregating it with tabs or sliders or display index of thematic pages. Just have to get learn Content - Pagebreak plugin to put it into practice.
Let's start, in your Joomla back-end navigate to Extensions -> Plugins -> Content - Pagebreak to see all parameters.
Take a look at basic options of the plugin: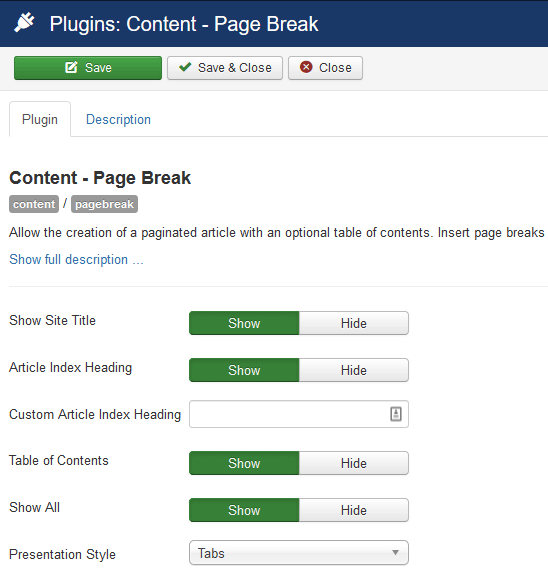 The last option "Presentation Style" gives the information of the current pagebreak style.
Now let's create the example article, just navigate to Content -> Articles -> Add New Article
Take a look at the one of the editor tool:
Press "Page Break" button to add the first tab, slider or page to your article.
Then you need to enter the title for the first item:
Now insert the Page Break and continue writing the content of it.
Repeat the action as many times as you need.

Providing that the template includes the proper css styles for page break presentation styles, now you can try to display the article in the way that most suits your needs.
There are 3 examples of the optional table of contents of JM Services free Joomla template.

Example Tabs Presentation:
Example Sliders Presentation:


Example Pages Presentation:


If you are familiar with HTML and CSS, you will find it very easy to modify example styles.
Enjoy!