Three Plugins for YOOtheme Pro released by DJ-Extensions
DJ-Extensions released three new plugins that have been created for integration with YOOtheme Pro Page Builder. New plugins are helpful tools, and combined with YOOtheme PRO, will for sure help you create a modern, functional website.
Browse Joomla templates using DJ-Catalog2
New subpage of products working with YOOtheme PageBuilder
There is also a new subpage of DJ-Extensions.com, where you will find plugins dedicated to YOOtheme Pro PageBuilder. It is the beginning of the release of new products, as the DJ-Extensions team started developing extensions and integrations that will work with YOOtheme.
What is YOOtheme Pro?
YOOtheme Pro is a trendy Page Builder compatible with both leading OpenSource CMS'es, Joomla, and WordPress. It brings ready-made, modern layouts suitable for different types of websites.
New plugins for YooTheme PageBuilder
At first glance, they have prepared three plugins
DJ-Catalog2 integrator - a Joomla plugin integrating DJ-Catalog2, the catalog and eCommerce solution with YOOtheme page builder
DJ-Accessibility - an accessibility plugin dedicated to the YOOtheme Pro page builder.
DJ-FlipBook - a plugin purposed for displaying PDF files in a fancy flipbook
DJ-Catalog2 integrator
It's a helpful tool for creating an eCommerce or product catalog website using DJCatalog2 and Yootheme's Page builder.
It provides deep integration between DJ-Catalog2 and YOOTheme Pro and allows Page Builder features with just a few clicks.
The plugin brings a layout feature for products just like YooTheme does for articles. This way, you can create different layouts for different products or take advantage of the pre-configured layouts.
Other essential features are:
Templates & layouts support
Extended products grid
Dedicated elements
Dynamic content
Check the DJ-Catalog2 Integrator demo site
You can get DJ-Catalog2 Integrator in three different pricing plans.
Learn more about DJ-Catalog2 Integrator
DJ-Accessibility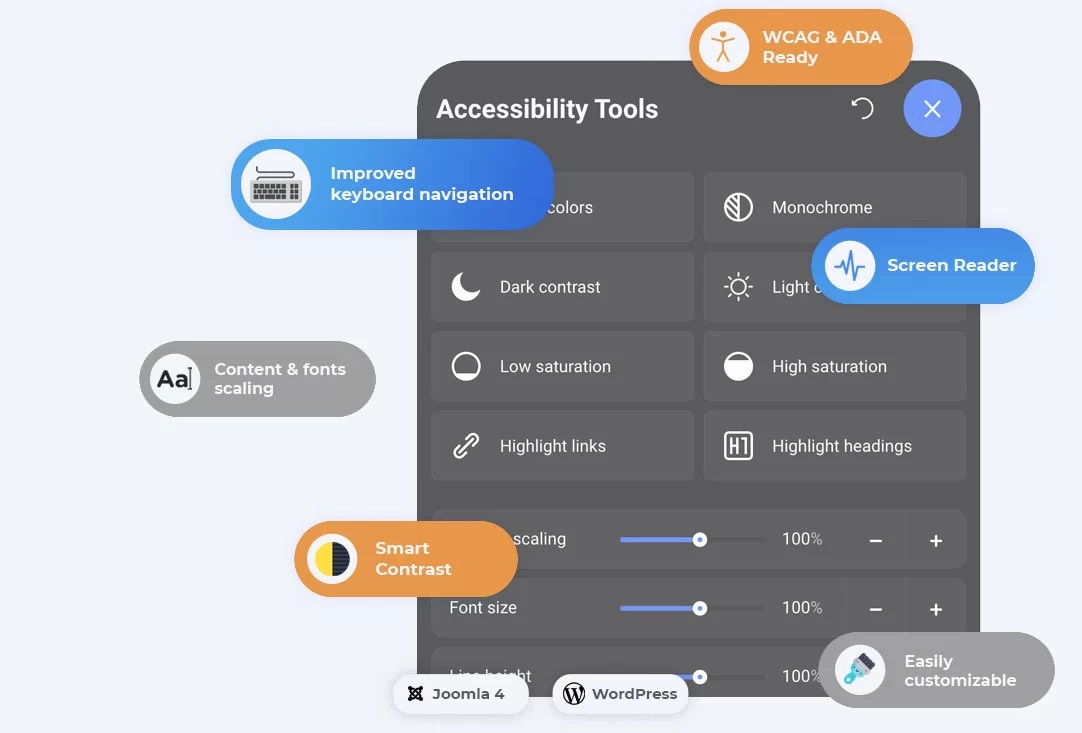 The accessibility plugin provides accessibility compliance with WCAG and ADA standards. Use its' options to improve the accessibility of your Yootheme Pro-based website! You can display accessibility options in a pop-up or a toolbar on your page.
DJ-Accessibility works with Joomla and WordPress!
It comes with a set rich of options, including:
Invert colors, Monochrome, Dark contrast, Light contrast, Low saturation, High saturation, Highlight links, Highlight headings
Screen reader, Read mode
Content scaling, Font size, Line height, Letter spacing
Check the DJ-Accessibility demo site
You can get DJ-Accessibility in three different pricing plans.
Learn more about DJ-Accessibility
DJ-FlipBook
Take advantage of extended options and reap the benefits of displaying PDFs in a modern way.
Using this plugin, you can attract your website visitors and give them a pleasant reading experience with a fancy file viewer.
It allows you to create eye-catching files cards (along with images and descriptions) easily!
Check the DJ-FlipBook demo site
You can get DJ-FlipBook in three different pricing plans.
The content of the blog post comes from the DJ-Extensions website: Three new plugins for YOOtheme PRO Page Builder

Want to know more?